As COVID-19 persisted throughout the past two years, artists have struggled to share their work with others face-to-face. Having to resort to the Internet as a mechanism to share their work in a time where people could not gather, artists have had to drastically adapt to create their artistry live. Perhaps one of the groups that have had to adapt the most is the performing arts.
TwoPoint4
Sacramento dance company, TwoPoint4, is a part of this group that has been forced to adapt to create and produce content. But now, as the Sacramento COVID guidelines have adapted to secure a pathway to normalcy, TwoPoint4 was able to hold their first live show in two years. Performances took place at the Clara Auditorium on November 19, 20, and 21st.
TwoPoint4 has been actively producing works for the Sacramento community for over ten years. They got the name from their first rehearsal and meeting space, a local 24-hour fitness gym. Tony Nyguen, Emilee Chew, and Christine Crookes founded this dance company with the, "purpose of exploring, challenging, and creating innovative dance theater works," according to their website. They complete this mission through on-ground dancing and vertical-dancing, which is a type of dancing done with harnesses and belay equipment.
In addition to producing creative works, they have also made it their mission to give back to the community. They host various vertical dance workshops and pair up with local high schools to provide students with an opportunity to learn dance techniques: TwoPoint4 has made an effort to involve themselves in the community they call home.
Apart and Together
Not being able to meet for the majority of the pandemic, TwoPoint4 was thrilled to finally have the chance to perform live. The performance, entitled One Million Connections per Second, featured Sacramento choreographers: Ashley Celaya, Emilee Mercado, Dacia Biletnikoff, Amy Kubat, Tony Nguyen, and William McCray.
William McCray, a dancer with this company since 2011, took on an additional role of being one of the company's central choreographers as well as continuing as a dancer. In this 10:30 minute interview conducted on Nov. 17th, 2021, I interviewed McCray about his journey into dance, what his choreography in One Million Connections meant to him, and how he hoped the show would inspire the people.
Artistic Director, Tony Nguyen described the One in a Million Connections per Second show as, "A blend of works from a blend of choreographers…" He said:
"Each piece is different, yet there is an underlying inter-connectivity that asks the audience to question what they are watching, and how these separate works piece together."
Centering around the complexity of the mind, this show features five live pieces performed by a cast of nine dancers and a screening of TwoPoint4's most recent video production entitled, Empowerher.
As dancers prepared for their first live performance since the beginning of the pandemic, "a lot has changed," said company member Alissa Fowler. "We've had to make a lot of adjustments including having a vaccination mandate for the dancers, and checking our audience's proof of vaccination or negative COVID tests." Nguyen also commented on this aspect of the production, "It is our goal to keep everyone safe, the dancers, the audience, everyone." And at the same time, as McCray says in the audio interview to help everyone feel connected: "I hope the audience at some point feels like they [can] be a part of it… and be in our moment with us."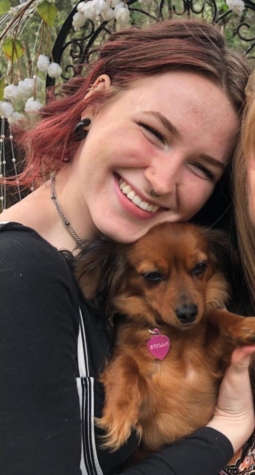 Written by Elizabeth Mulford  |Featured Photo by Tony Nguyen