College students spend thousands of dollars on tuition, living expenses, food, gas, etc. but have little room for anything else. What if you had to choose between period products and groceries? This situation occurs more than people may think. A new study found that 14.2% of college students experienced this problem known as Period Poverty in the past year.
What is Period Poverty?
Period Poverty refers to the inadequate access to menstrual hygiene tools and education, including but not limited to sanitary products, washing facilities, and waste management. This phenomenon can range from buying food over period products and for another it may include creating makeshift pads with toilet paper or rags. Some may even have to ration out pads by using them for unsafe, prolonged times.
When resorting to these measures, menstruators subject themselves to risks of physical and mental consequences. The inaccessibility to period products can lead to urinary tract infections, skin irritation, vaginal itching, stress, depression, and more.
Wearing a pad or tampon for too long puts people at risk for getting Toxic Shock Syndrome (TSS). TSS is caused by complications from certain bacterial infections. The natural bacteria that the vagina produces can overgrow and it releases toxins into the bloodstream. This is a rare but potentially life threatening illness that can be easily prevented.
While this phenomenon happens to millions of people worldwide, there is a stigma placed on the topic of menstruation altogether.
Challenging the Stigma Behind Menstruation

Whether people feel uncomfortable talking about it, hide pads or tampons in their sleeves when going into the bathroom, call their periods a different name (Aunt Flow, Shark Week, Time of the Month), tell someone to stop saying when they're on their period, the stigma of menstruation is ingrained in U.S. culture.
This stigma is seen through the movie Turning Red, the 2022 Pixar movie directed by Domee Shi. In the film, 13-year-old Meilin Lee is believed to have started her period. When her mother, Ming Lee, finds out she comes to the rescue with a box full of period necessities including a wide assortment of pads, ibuprofen, vitamin B, and a hot water bottle.
Some have taken to Twitter to voice their concerns about the film believing that menstruation is too mature of a topic and inappropriate for a movie geared towards children. The film sparked a much needed conversation about periods.
On the other side, people have been defending the movie and even applauding it for the realistic representation of life as a pre-teen. Many believe Turning Red will help normalize periods and help young girls through this stage of their life.
Even though menstruation is a natural bodily function, in certain communities and cultures it is disrespectful or rude to bring it up. Making matters worse, shame and embarrassment lead to the lack of education and awareness about period poverty. If people can't talk about being on their period, how can they be expected to have access to menstrual products and education?
Is it a Luxury?
Though it is biologically unavoidable, period care is seen as a luxury. Though toilet paper and soap are free, pads and tampons are often not provided in public restrooms. If there are products in a public bathroom they will often cost 25 or 50 cents.
Having to carry change around can be an inconvenience, especially for those with irregular periods. Those who have irregular periods have no control or idea on when they will start. If they start their period and do not have anything on them, then they're out of luck.
This brings up a point for people to start carrying change around. Having coins will allow people to be prepared, however it could come at a cost. Carrying coins means having a bigger wallet, or having a coin purse, which could bring risk for theft.
Challenging Period Poverty in Schools
In October of 2021, California Governor Gavin Newsom signed The Menstrual Equity Act of 2021. This law requires public schools to provide free menstrual products to students from grades 6-12.
That same law applies to California State Universities and community colleges, who now are required to have an adequate supply of products in at least one centralized and accessible location on campus. This will require schools to provide products in all women's bathrooms, gender-neutral bathrooms, and in at least one men's bathroom on campus at all times.
This law is in effect as of the 2022-2023 school year.
At Sierra College, this problem spurred the interest of Cat Escano, a Sierra student and Co-Vice President of Communications of Phi Theta Kappa (PTK). When Escano joined PTK, she learned of a Committee a previous student had started on Period Poverty and got involved.
"Period Poverty is a Committee dedicated to helping end the lack of access to feminine hygiene products. We bring light to the severity of period poverty, not just around the world but in our own country as well," Escano said.
The Committee hopes to be a part of the solution by helping those in need. They seek out donations of pads, tampons and other hygiene products that are then given to women's shelters, churches and other organizations that are working in the communities that need greater menstrual product access.
They also spread awareness. As of right now, the Period Poverty committee is concentrating more on spreading awareness of the problem due to a lack of donations. Escano, along with Professors Megan Seely and Krissy Gilbert hosted a workshop on the issue of period poverty during Women's History Month on March 21, 2022.
"We talked about menstruation politics, the taboos behind it, and I was able to give a piece on what period poverty is, how it affects women and people who menstruate, (and) what people can do if they cannot donate," Escano said.
Escano urges people to help spread awareness. This along with knowing what policies lawmakers are making and getting involved as much as you can to help alleviate the issue.
When asked how she feels about the stigma behind menstruation Escano says:
"It just feels very sad, the way menstruation is viewed. If people had more education or asked questions or didn't avoid the topic entirely, they would see it is a beautiful thing. You're moving into the next stage in life and adulthood."
Escano hopes to continue running the committee next year, though with new people joining the club this could change. Club members determine what community outreach they are involved in each term. The most up-to-date Phi Theta Kappa initiatives can be found on the club website.
Is Period Poverty at Sierra College?
Students at Sierra College may lack access to menstrual products on campus. On the Rocklin campus, most women's bathrooms do not have feminine hygiene products available. There are a few bathrooms that have a place to put in change to get a tampon or napkin, one being on the 1st floor of the library. The gender neutral bathrooms at Sierra also lacked menstrual products when investigated in Spring '22. This makes period care inaccessible to all genders- not just cisgendered females.
In many bathrooms on campus there are baskets with a sign to encourage students to leave free products for other students to use. However, these are often empty. Reluctance of individuals to leave behind products is normal, the school itself needs to help support those who menstruate.
While the bathrooms don't have products inside them, there are spaces that provide them on campus for free. Any person in need can visit the Student Engagement Center's Cross Cultural Center, Women and Gender Resource Center or Pride Center. At these locations you can find maxi pads, panty liners and tampons.
Another location that provides menstrual products is the Sierra Food Pantry. While many people who hear about the Food Pantry assume that they only have food, the Pantry carries a variety of hygiene products like tampons, toothpaste and deodorant.
Through the Food Pantry there is a point system that limits you to how much you can get, but the feminine hygiene products do not cost any points. This allows students to still get as much food as they need with no consequences if they need to get menstrual products as well.
While Sierra College offers free products through these centers, there is still more work to be done. While they are free on campus, they are only available while these Centers are open. There is still room for improvement then to make sure there are always products available in the bathrooms. This is time for the Period of change, will Sierra College live up to the challenge?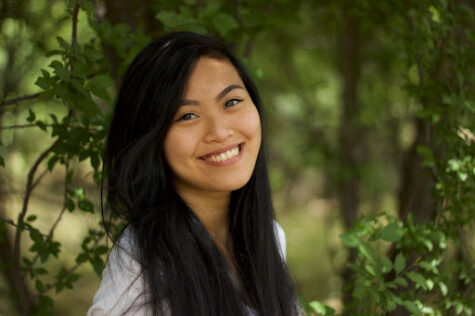 Written and photographed by Jessica Mananquil