"What kind of bread? What kind of sandwich? Would you like it toasted? What kind of sauces? Veggies? Salt, pepper, oil, or vinegar?" These are questions you'd typically hear in Subway. However, this isn't the case when you walk into the 5070 B, Rocklin Rd. Subway. Here it's easy to become a regular where they know your order and be greeted warmly by the Chauhan family. 
Bobby and Sandy Chauhan, a husband and wife duo, have worked at Subway for 30 years. They originally became employees at the Granite Rd. location, which is owned by a couple of their close family friends. Their friends later expanded and built the location they're at today, where both Bobby and Sandy Chauhan have worked since its doors first opened. 
The Chauhans have three children. Their eldest, Anissa and their middle child, Jaden were both pulled into the family business at the start of the COVID-19 pandemic, when they needed more help around the shop. Now, they work together serving up sandwiches and smiles to every customer who walks in.  
Meet the Family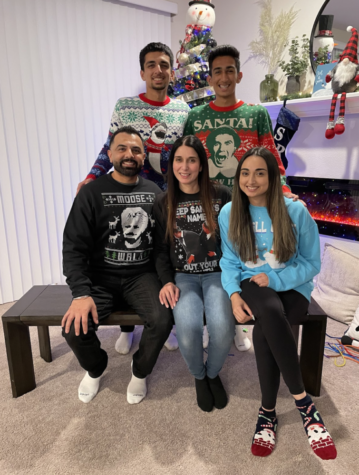 Bobby Chauhan was born and raised in Birmingham, England and immigrated here with his parents. They had nothing but themselves and his father's American dream.
Bobby's father comes from Punjab, India, where his family's Sikh religion originates. He explains:
"For me, it's two different worlds. In England I was more cultured because there were a lot of Indians… a lot of Sikhs. So, we went to temple every Sunday. We saw family every weekend. Once we moved here it was totally different because there [weren't] many families that were related to us."
Sandy Chauhan was born in Punjab like Bobby's father. She moved to the States with her family when she was just five-years old.
Because she was so young, she doesn't remember much about growing up in India or what her life was like in her birthplace. She said: 
"My family worked day and night. I didn't get to see them much either when they came here. They worked like 7 days a week… you know, that's why we work so hard now for our kids."
Daughter, Anissa Chauhan, is very familiar with the idea of hard-working parents. She grew up under the care of her grandmother. While Bobby and Sandy were at work, she would spend time with her grandma whilst also taking care of her two younger brothers.
Anissa was born in Folsom, Calif., along with her two brothers, but grew up mostly in Roseville at her grandmother's house.
It's Anissa's dream to go to beauty school and learn the basics of becoming a nail technician.  She's also interested in doing people's hair and eyelashes because she loves the idea of making others feel beautiful and good about the way they look. 
Jaden Chauhan, the middle child and oldest son, is currently a freshman at American River College. He has a huge passion for soccer and plays for the college's team. He said: "Right now, I'm playing club soccer. But I want to keep taking that to the highest level that I possibly can. If that doesn't work out, I want to go into something that has to do with sports medicine or be a physical therapist."
Jaden was named both captain and Most Valuable Player for the Beavers this year and proves to be a driven and dedicated asset to both his team on the field and his family in their shop.  
The youngest of the family is Nevin Chauhan. Anissa described her brother: "He's always busy, but we have fun when we're together. When he plays sports, we'll go watch. He does track and soccer so we go to all his meets and games to support him."
On a visit to the store following this interview, Bobby Chauhan told me that Nevin participates in cross-country, making him a tri-sport athlete. He loves to run and stay in shape because being one step ahead and outworking his competition is no stranger to his personality. 
Now that you know more about this family, you might understand why people praise them for the work they do in this community. It's no surprise that even people from out-of-country walk in and commend the quality of service that the Chauhan family displays.
Service Beyond Sandwiches
Masayuki "Masa" Kawashima is a first-year student at Sierra College, who lives across the road from Subway in the dorms. He is a Business major from Tokyo, Japan and plays for the Wolverine's baseball team. Because he lives in the dorms, he is also provided with a meal card that pays $65 a week for a selection of off-campus eateries.
Subway is one of the restaurants on that card, which allows him to choose the Chauhan's store and frequent it on a regular basis. He expressed gratitude for the way the Chauhans run the restaurant. Kawashima said: "In Japan, the workers are more distant. No talking. You are just a customer. Like, 'oh yeah, yes sir, yes sir.' Not, 'Hey, how are you?' Like the way they do."
He doesn't even have to tell them his order because it's already memorized. They make him feel special, especially being so far away from loved ones.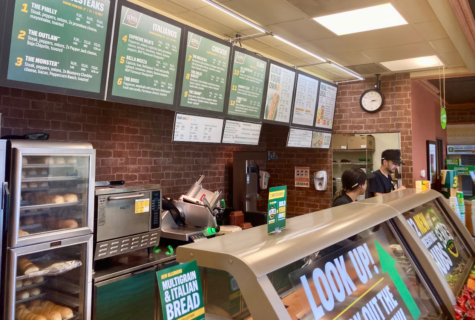 Speaking of those we love, Bobby and Sandy Chauhan became parents at the age of 18. Once they had their first child, they pushed their dreams back to support the success of their kids: their main priority was to "provide."
This sense of providing for others became so important to the Chauhan parents that when it came to working at Subway, the act naturally carried over. 
Bobby explains: "I think the best part and the most I learned from this job is the impact that we make on people's lives. And I'm not talking about sandwiches, I'm talking about every customer that comes in, treating them like family, treating them like they're someone special. I think that's what I learned over the years." He continued:
"I make sure to treat everyone that comes into the store like they're my own kids or they're…you know, somehow related to me. I always just want to make their day."
After hearing this answer from Bobby, it inspired me to ask the rest of the family a question: "What is one thing you've learned through working at Subway that you never thought you would've otherwise?"
Sandy said: "When people come in… knowing how to talk to them and serve their needs… basically social skills and making them feel comfortable ordering their sandwich from us."
Sandy also has previous experience working in the field of medicine, as a medical assistant for a doctor's office. She explained how she's always been a "people-person," so talking to others and helping them with whatever they needed has been a skill that's come naturally to her. 
Building off of this Anissa said: "I was very quiet before I started working here. Now I can talk to people a lot better. They [her parents] pushed me… I learned a lot about business and how they would run it. Basically, like getting customers in the doors and being kind to them."
One of the first things you notice about both Anissa and Sandy Chauhan when you walk through the doors are their smiles because they exude kindness. Especially when they recognize you, your status as a "customer" automatically turns into a "regular." Which is essentially what they want everyone to be. 
Coming from a small, close-knit community in Hawaii, I know first hand what it's like to be surrounded by selfless, warm-hearted people. Bobby, Sandy, Anissa, and Jaden Chauhan are a family that exemplify these qualities through their service. With this in mind, it's safe to say that they make more than just a couple pieces of bread with some meat and veggies in the middle. They make you feel like home.  
Written and reported by Ethan Yamaguchi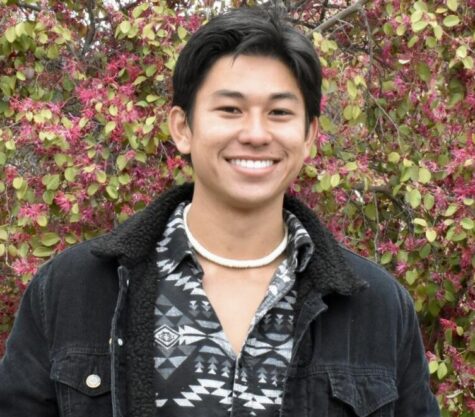 Featured image: Anissa Chauhan serving local customer, Sierra College Theater professor, Scott Adams. Jaden Chauhan works counter in background. Subway, Rocklin, Calif. Mar. 30, 2023. Photo by Ryder Bouck.