"Congrats! You qualify to join the Honor Society." This is the email students receive when they have completed 12 units and earned a 3.5 or higher-grade point average at the end of a semester. It's an email with the potential to set students up for scholarship opportunities, help students develop leadership skills, gain lifelong friends and so much more.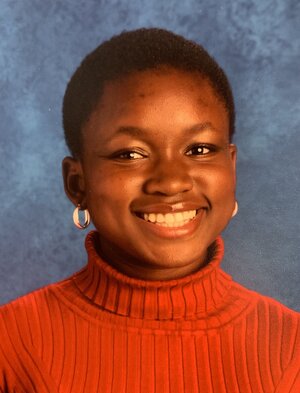 However, student emails are not always checked often, as stated by Elisse White, current President of Phi Theta Kappa at Sierra College. "Usually students don't check their Sierra College emails as much as they should, but thankfully I did!" Elisse laughed, "Every semester they send out a plethora of emails to all of the qualifying students and at first I thought my email was spam."
Checking that email ultimately led Elisse to becoming President of Phi Theta Kappa, and as President she has helped raise awareness about the Honors Society to the Sierra College community and the greater Sacramento community. Along with that, she has also helped create partnerships with other clubs at Sierra College, with the intention of positively impacting the campus community.
PTK's Story

Phi Theta Kappa (PTK) is an international honor society made up of student clubs and academic programs. PTK originally began in Missouri in 1910 and since then has expanded to community colleges around the US and to two-year colleges and academic programs around the globe. As stated on the international Phi Theta Kappa website, we can trace the origin from Stephens College, a community college located in Columbia, Missouri. There, six students were listed as honorary and throughout the years, formed an organization modeled after Phi Beta Kappa. Today, there are 1,285 chapters on campuses throughout the world, including one at Sierra College.
"How many people are in PTK at Sierra College, versus how many people show up to the meetings, participate, and join committees?" Nicque asks. "Well, I'd say we're in our third or fourth year of development, but we have a lot of silent members" Elisse explains, "You know, we have members that will pay that one-time fee. Then they'll help us [and] support us through events, but they won't be able to come to meetings because of their work schedule or they have to take care of their children and that's fine." As for students who come to the weekly meetings, "I want to say like 15 to 20 people. We just started to fill up classrooms!" Elisse continued, with excitement in her voice.
For many members, their journey in PTK started with an email, but students do not have to meet the above stated requirements in order to be a part of PTK. "We have provisional members, too," Elisse added, "you can still be a part of our Club and you can still write your experiences within Phi Theta Kappa on your applications." The main differences between provisional members and official members is that there are scholarship opportunities and voting privileges for official members.
Between the PTK Board members, Elisse, and PTK advisor Jason Files, there has been a  push for partnerships with other clubs on Sierra College's campus in order to have "…a broader reach and a more powerful positive impact on Sierra College," Elisse explains. Before the change in school settings due to COVID-19, PTK planned an event with the Salaam Club. They also planned to reach out to the Black Student Union, and they had agreed to sponsor an event serving Disabled Students Programs and Services.
PTK's Impassioned Committees
Advisor, Jason File, explains the history of the club on campus and the importance of its committees. PTK began at Sierra in academic year, 2016-2017: "[In] the beginning, there were about five active members, and we mostly tried to just figure out what PTK was," Jason said. Then he further explained the leadership changes that happened the following year.
With the help of a Conference in Chicago, the PTK advisor learned what the meaning of a "committee-based" organizational structure meant. He said, "Basically, anyone can form a committee devoted to whatever they want, and PTK will use its administrative and financial structure to support those committees."
Soon after, PTK flourished at Sierra College, growing each semester from continuing memberships, and from new students who are inspired to positively impact their community.
Committees are formed when a member presents a cause that they would like to contribute to, or people they would like to help, or a part of the community that they would like to get more involved in. The project is then "voted upon, and then embraced and executed throughout the school year," Sierra College PTK website explains. It's an excellent opportunity for members to expand on their leadership skills and to give back to the community. In Elisse's words:
Our members have the most power of everyone involved within PTK, our members are the driving force.
Elisse continues, "What happens is that PTK members will become passionate about whatever topic they choose, they then will create a committee, and will dedicate their time to that cause." Some examples of the committees' club members have created are the: Art Positivity, Homeless Outreach, Hospital Outreach, Sierra Buddies Committee, Faculty Appreciation Committee, Run with Reason, Fashion Club, and Period Poverty Committee.
Jason recalls his most rewarding experience as the advisor for PTK to be from the Sierra Buddies committee. Members from this committee "…got the names and birthdays of children of low-income Sierra College students, many of whom were single moms, and then solicited donations and put together birthday packages for those kids. The moms didn't know anything about it, so when they showed up on campus on their child's birthday, or close to it, they were called into the Financial Aid office and presented with a surprise gift for their kids."
One committee that Elisse spoke fondly about is the Art Positivity committee, portrayed in the images in this story. During Finals Week, there were art set-ups for students to be able to paint or draw, "…so that they could de-stress, decompress, and relax before continuing on with whatever Finals they had," Elisse said.
The Art Positivity committee has also visited local homes for the elderly and given painting lessons as a way to create a positive atmosphere. On Sierra College's campus, you may have seen works of art or encouraging words, created from chalk, on the pavement. That was another form of creativity put on by the Committee to spread positivity on campus through art.
Honors for Self & Community

Phi Theta Kappa is a club that gives students at community colleges the power and opportunity to create and contribute to their own communities. With the generosity of volunteer work, students and their communities get a chance to evolve. PTK is, "a home within a home at Sierra College" as Elisse puts it.
She explains, "The reason why PTK is so effective and is becoming so popular among students is because there is no losing in PTK. When you invest time into the PTK organization, you are simultaneously investing time into the surrounding Sacramento community, other Sierra College students, as well as investing in yourself." Members who have been a part of PTK can then use their experiences, lessons, and volunteer work to expand on their own personal and career goals.
Written by Nicque McMullen and Taylor Hamilton | Photos provided by Elisse White, President of PTK