COVID-19 has forced us into a new world. We all knew that technology was going to play a big part of our lives in the near future, but no one expected it to happen so suddenly. It has become the new normal to integrate technology into milestone events, such as graduation, weddings, funerals, and so much more. One thing that greatly affected me is my eighteenth birthday.
With my mom, Toni Vengersammy, growing up in the Philippines, there's a lot of aspects about her culture that she and her family enjoy sharing with us. One event that she's been looking forward to is planning her daughter's Debut. This celebration is seen as the milestone of a girl becoming a woman on her eighteenth birthday.
Something for My Girls
"It's something that I knew I wanted to do for my girls. I enjoy planning it because of the whole idea of getting the family involved in the program from old to young. In the Philippines, they make it as grand as a wedding. You don't just invite friends and family. The whole town participates in the ceremony," my mom, Vengersammy said.
The Philippine Debut is a cultural tradition done by Filipinos. It originally came from the Quinceanera practiced in Latin America. Every friend and family member comes to see the events unfold at this party. This celebration contains many different segments of events, the first one being the grand entrance of her "Court."
The debutant picks eighteen people, nine females and nine males, to pair together for her "Court." The Debutant's Court wears matching outfits, while the celebrant wears a ball gown. Second, a dance is performed by the Debutant and her Court. This usually takes weeks of practice in order to perfect.
Rarely in America, but always in the Philippines, the Court performs the traditional Filipino dance in addition to the Waltz. It's called tinikling which is done with two bamboo sticks that are tapped on the ground, with the dancers stepping in and out of them.
Eighteen Roses
The next step is to pick out eighteen males to dance with during the "18 roses" segment. As each male walks up to the celebrant, they offer her a rose in favor of a dance. This is traditionally followed by the "Father Daughter Dance" which is a sign of the father releasing his child into adult life.
Once the dancing portions have ended, speeches are presented. The first speech is "18 memories." This is where the debutant's friends and family members share a quick story about an unforgettable memory that they've had with the celebrant. One of the last events is "18 wishes." This final segment concludes with eighteen close females of the debutant that share a wish for the celebrant's future.
They walk up with a candle and once their speech is finished, they light a candle on the cake. This is traditionally done by the older women in the family. Once all of the eating, entertainment, and events have been completed, the night concludes with a short thanks from the celebrant to her guests for indulging the night with her.
Party in Pandemic
As you can tell, this event requires many participants, as well as, guests to watch. Ever since the rise in Coronavirus cases, large gatherings such as this celebration have not been possible. It became a lot harder to plan for my upcoming celebration as I turn eighteen in 2020 as opposed to my sister's, Kayla Vengersammy, in 2018.
My sister expressed the difference between my Debut and hers. "Mine was different mainly due to COVID-19. There was a significant change because, while we usually cater, our extended family had to prep food from home. We also couldn't have a DJ, setup crew, or camera crew come to the venue because of the virus," Vengersammy said.
My Debut took place August 15, 2020. This date was not the best time to have a big party. My mom had many ideas about how my celebration was going to go. Sadly, these plans were interrupted due to the outbreak of COVID-19. All of a sudden, things were changing without warning.
My court was down from eighteen to three, we no longer could meet up to practice the waltz, my friends from the Bay Area couldn't stay over, and so much more. All in all, it was chaotic. I had originally thought that my party was ruined. I only have one Debut in my life and it's turning out to be a disaster.
The Surprise
When August 15 came around, I was worried that no one would show up, but slowly, some of my family members began to come. I was thankful for this and started to come to terms at the fact that my party won't be what I was imagining it to be like. Little did I know, my mom and cousins had surprises.
"It wasn't difficult for us to keep the surprises a secret. I would work on it while [Katelyn] was out with her boyfriend, and her mom would communicate with me in Tagalog since she doesn't speak it. It was her mom's idea, but I was on board to help with the surprise since not a lot of people could make it due to Corona," my cousin, Yna Dalit said.
Although we weren't able to rent out a big space, my parents decorated the backyard with chairs, tables, lights, and even got me a throne. There was a whole sound system with music and a mic, with a slideshow of me. I was thankful for the effort they put into this.
Everything went on as normal from what usually happens at a Debut with no change, except that there was no waltz with the Court and none of my friends made it. I didn't mind this change until the "18 memories" portion of the event.
Love & Technology
The only people that showed up on my list were my two cousins and my sister. I started joking around, calling it "3 memories" instead. After they gave their speeches, I thought it was over. What happened next was unexpected. My dad pulled up a video onto the projector.
I found out that my family took time to contact my friends, my boyfriend, and family that couldn't make it to share a memory. This brought me to tears. Another video came up when it was time for "18 wishes." The video consisted of kind words from family and even my former publications advisor.
"I was bummed out that I wasn't going to make it to the celebration, but I was happy when the family reached out. I wasn't expecting to be asked for a video of a memory, but I'm glad I was able to contribute. Filming didn't take long since the memory was genuine, so it was easy to tell a story that I enjoyed with [Katelyn]," my boyfriend, Jayden Ohara said.
Dancing our Debuts
Even during Covid, it's still possible to maintain traditions. My celebration wasn't like other ones I've been to, but it had every aspect it needed and this is what made it special. Even to someone experiencing it for the first time, it's clear to see that the culture is the highlight of the event.
"I came in with no knowledge of how a Debut is supposed to be. What made it different, for me, wasn't the virus. It was the culture. COVID-19 just made it so that we were apart from each other, but the events that occurred is what made it special," my sister's boyfriend, David Podnebesnyy said.
The size of a party doesn't make or break the celebration. All I needed was my friends, family, and a video editor. A big thanks goes out to my family for making my Debut possible even in 2020. Having the people that you love around you will always make a big difference in any setting.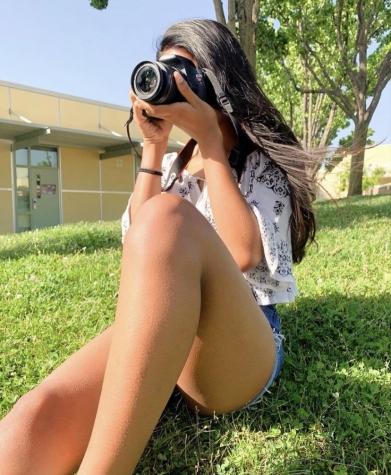 Written by Katelyn Vengersammy | Featured photo provided by Author